Description
A realistic hand painted model of a prehistoric hornless rhino, Paraceratherium was an Odd-toed ungulate, with its closest living relatives being rhinos and tapirs. These extinct creature were huge – they are believed to be one of the largest terrestrial mammals that has existed.
Standing at 5 meters tall and over 7 meters in length Paraceratherium would have dwarfed modern African elephants.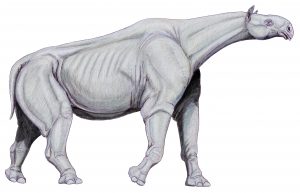 Paraceratherium lived from the early to late Oligocene epoch (34–23 million years ago) and probably are It is believed that the Paraceratherium ate a diet of soft leaves and shrubs.
Approx Size: 22cm x 14.7cm
Hand painted